CUP (CHURCHES UNITED PANTRY)
December ITEMS OF THE MONTH:
DROP OFF ITEMS IN THE BIG RED CUP INSIDE THE NORTH DOORS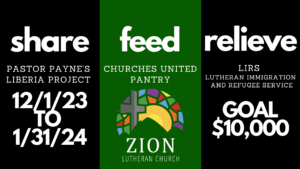 2023 SHARE+FEED+RELIEVE GOAL $10,000 12/1/23-1/31/24
Since 2015, the congregation of Zion Lutheran Church has shown up in big ways for our
community and for our world with our annual SHARE. FEED. RELIEVE. campaign. Through your generosity, over $82,000 have been raised and distributed to local, national, and international
organizations that help SHARE the faith, FEED those in need, and RELIEVE the suffering of our neighbors both here and abroad. This year, from December 1, 2023 through January 31, 2024, this special offering provides an opportunity to be a blessing again, since God has so richly blessed us. We pray that everyone will be called to donated whatever amount they're comfortable with – over and above your regular giving. No amount is too small! Together we can do big things! Begin by praying to God for guidance in how you can contribute to this special offering. Allow God to stretch your faith and bless your gift for the blessing of the world! Every dollar given will go
directly to our three beneficiaries for 2023/2024:
SHARE your gifts with our partners in ministry in Liberia, West Africa for the continued restoration work of Esther Bacon Lutheran Church in Gorlu and the Gorlu Public School. Rev., Dr. Samuel Payne, pastor at St. Matthew's Lutheran Church in Cridersville, who was born in Liberia and
attended the Gorlu Public School as a child, has led the restoration projects, which so far, have included a new water pump; new roofing, doors, and paint; school supplies for the children;
support and food for the teachers; and so much more.
FEED Churches United Pantry provides people with a three day supply of food on a once a month basis. It is an ecumenical partnership of 10 Lima Area churches. Churches United Pantry, aka CUP, was started in 2001 by several individuals who saw a need to provide food for Lima's hungry neighbors. CUP's foundation is 10 Lima churches who support us with volunteers and
finances to purchase food for the pantry. Zion provides volunteers as well as donations and our very own Peggie Stubbs is CUPs president!
RELIEVE Lutheran Immigration and Refugee Service is a church that does God's work in the world and in local communities pursuing justice, peace and human dignity for and with all people. In partnership with Lutheran congregations and the Lutheran social ministry organizations, LIRS has welcomed more than 379.000 refugees to the United States since1939. This ongoing
partnership and work is driven by God's love for all people and a vision for congregations to be welcoming and generous centers for mission and ministry.
If you feel called to serve with
Zion Lutheran Church email sheila@zionlima.org or call the office 419-224-9951