MARCH REDUCE, REUSE, RECYCLE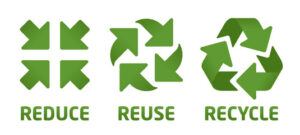 Keeping with our pledge from last year Zion Church and Childcare will be upping our
efforts to reduce, reuse and recycle for the month of March and beyond! And we need your help…
What we are doing at Zion:
Turning out lights in the rooms we aren't using.

Scheduling the programable thermostats to




adjust when our rooms are occupied.

Recycling our paper waste.

Paying invoices online. (saving checks, stamps)

Educating our preschoolers on reducing,




reusing and recycling with stories, activities and games.
Ways you can help:
During the month of March bring in your plastic grocery bags in to church for redistribution to the food pantries.

Place your used bulletins in the bins for recycling.

Bring your own coffee mug or travel mug for Sunday Common Hour.

Text CONNECT to 419-224-9951 for the link to fill out our online connection card.




(saving paper, ink)

Set up online giving by visiting zionlma.org or Text GIVE to the office number.




(saving stamps, envelopes, paper)

Start recycling in your home, cardboard, paper, cans, glass and plastic bottles.
And when they had eaten their fill, he told his disciples, "Gather up the leftover fragments, that nothing may be lost". -John 6:12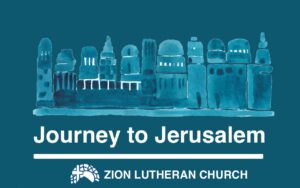 We had so much fun with Walking to Bethlehem we thought we'd try it again, welcome to Journey to Jerusalem! This time we only have seven weeks to travel 6103 miles, but together we can do it! Journey to Jerusalem is an imaginary walk that encourages members of all ages to increase their physical activity, spiritual growth and cultural awareness through a virtual walk to Jerusalem. Wednesday March 2 to Thursday April 14 Seven weeks – 6103 miles. Everyone can participate in this walk, even if walking isn't your thing. Call Sheila at 419-224-9951, check the box on your connection card or text WALK to 419-224-9951 to get the link to sign up!
FIRST GROUP WALK – MONDAYS STARTING 3/7 12:30 PM
HERMON WOODLANDS 485 N. Wapakoneta Rd.